Activities in Borgvattnet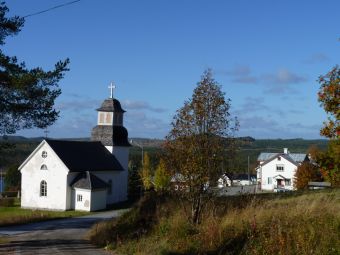 BORGVATTNET'S CHURCH
In the middle of Borgvattnet you can find an old church dating back to the 18th century. Inside the church there is small a collection of old church items. Services are held every other week, look on the site of Svenska Kyrkan for the schedule. During summer the church is open for visitors. We can even provide guided tours for groups. Please contact us for more information.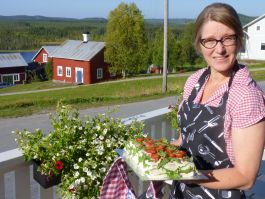 CAFE
Our cafe under the same roof as the Affär'n in Borgvattnet offers hot and cold drinks, ice cream, cakes, freshly made sandwiches and the real Swedish 'Våffla med sylt och grädde'.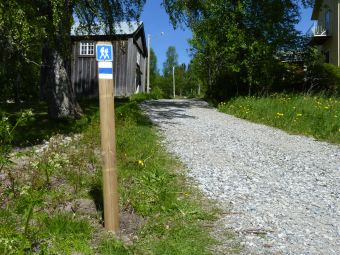 SUMMER
Do you like to hike or just take a walk? We have trails in Borgvattnet, all starting in the centre of the village. You could take a 3 km hike up to the haunted house through the forest and back. Information about more advanced trails is available at the Info Point in the shop. We can drive you to a location and/or pick you up at the end of the trail. Borgvattnet is also known for its lake 'Borgsjö', here you can fish for free. You can even rent a boat from us for 250 SEK per day (including an outboard motor). Mountainbikes are for rent for 100 SEK per day. Last but not least the village has its own public swimming spot at the lake.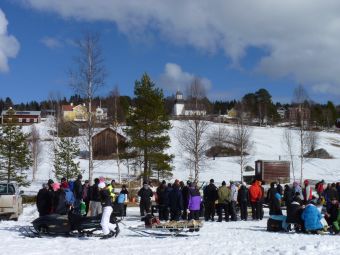 WINTER
During winter Borgvattnet looks like a postcard, the snow, the view on the frozen lake, it's an experience on its own. Having the gas station so close by is ideal for snowmobile tours. On the lake you can go out for ice fishing. If you are doinig this for the first time a guide will show you how. For a walk on the lake, we have snow shoes for rent.
Snow mobile drivers are welcome to a nice cup of coffee or a lunch in our cafe.
Groups that are visiting Sweden are especially welcome during winter. For them we organize a place to sleep, breakfast and dinner. We can also arrange other activities such as a jump in the frozen lake.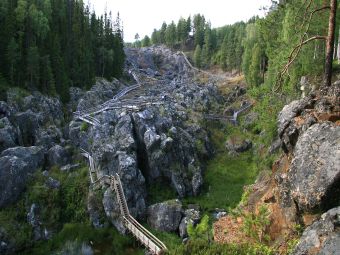 ATTRACTIONS
Travel to the 'Döda Fallet´ a nature reserve created after the disaster of 1796, where the Ragunda lake emptied out and the waterfall became 'dead'. It's an hour drive and near by you can also find 'the Royal Thai pavilion', a memorial building for king Chulalongkorn who visited the municipality of Ragunda in 1897. In the village of Krångede there is the Kraftverksmuseum, they show you how people lived and built the hydroelectric plant. Look for more attractions and information on www.ragundadalen.se.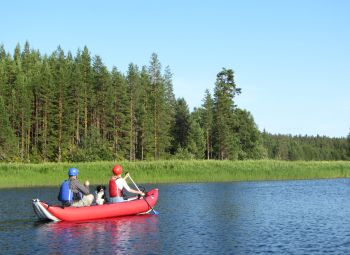 OTHER ACTIVITIES
Around Borgvattnet there are several tourist activities. They can make your trip an unforgettable experience. For those who want to try something totally different there is the Zorbcenter and there is paddling at Trefoten Kanoten. In Kullstabacken, Hammarstrand there is a ski slope with a height of 220 meters. Look for more activities and information on www.ragundadalen.se.